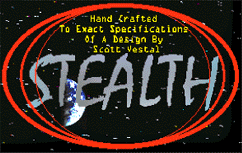 Stealth Limited 5 Year Warranty
This new Stealth instrument is warranted to be free from defects in materials and workmanship for 5 years, subject to the limitations contained in this warranty.
If at any time during this 5 year period this Stealth instrument malfunctions as a result of faulty materials or workmanship, Stealth will repair the defect(s) or replace the instrument, as it deems appropriate at its sole discretion. Stealth reserves the right to use materials regularly utilized at the time of repair in the event that original materials are no longer available. If replacement of your instrument is deemed appropriate by our staff, Stealth will replace the instrument with one of the same or most similar style of a value not in excess of the original purchase price of your instrument.
In the unlikely event that your instrument is destroyed, lost or damaged beyond repair, while in the possession of Stealth for repair, Stealth will replace that instrument with one of the same or most similar style of a value not in excess of the original purchase price of your instrument. Any insurance covering the instrument, including but not limited to collector's value insurance, must be carried by owner at owner's expense.
THIS WARRANTY IS EXTENDED TO THE ORIGINAL RETAIL PURCHASER ONLY AND MAY NOT BE TRANSFERRED OR ASSIGNED TO SUBSEQUENT OWNERS. IN ORDER TO VALIDATE YOUR WARRANTY, AND AS A CONDITION PRECEDENT TO WARRANTY COVERAGE HEREUNDER, YOU MUST RETURN YOUR WARRANTY REGISTRATION CARD WITHIN FIFTEEN (15) DAYS FOLLOWING THE ORIGINAL DATE OF PURCHASE.
This Warranty Is Subject To The Following Limitations:
THIS WARRANTY DOES NOT COVER:
1. Any instrument that has been altered or modified in any way or upon which the serial number has been tampered with or altered.

2. Any instrument whose warranty card has been altered or upon which false information has been given.

3. Any instrument that has been damaged due to misuse, negligence, accident, or improper operation.

4. The subjective issue of tonal characteristics.

5. Shipping damages of any kind.

6. Any instrument that has been subjected to extremes of humidity or temperature.

7. Normal wear and tear (i.e; worn frets, worn machine heads, worn plating, string replacement, or damages to or discoloration of the instrument finish for any reason).

8. Any instrument that has been purchased from an unauthorized dealer, or upon which unauthorized repair or service has been performed.

9. Any factory-installed electronics after a period of one (1) year following the original date of purchase.


STEALTH MAKES NO OTHER EXPRESS WARRANTY OF ANY KIND WHATSOEVER. ALL IMPLIED WARRANTIES, INCLUDING WARRANTIES OF MERCHANTABILITY AND FITNESS FOR A PARTICULAR PURPOSE, EXCEEDING THE SPECIFIC PROVISIONS OF THIS WARRANTY ARE HEREBY DISCLAIMED AND EXCLUDED FROM THIS WARRANTY. SOME STATES AND/OR COUNTRIES DO NOT ALLOW THE EXCLUSION OR LIMITATION OF IMPLIED WARRANTIES SO THAT THE ABOVE MAY NOT APPLY TO YOU.

STEALTH SHALL NOT BE LIABLE FOR ANY SPECIAL, INDIRECT CONSEQUENTIAL, INCIDENTAL OR OTHER SIMILAR DAMAGES SUFFERED BY THE PURCHASER OR ANY THIRD PARTY, INCLUDING WITHOUT LIMITATION, DAMAGES FOR LOSS OF PROFITS OR BUSINESS OR DAMAGES RESULTING FROM USE OR PERFORMANCE OF THE INSTRUMENT, WHETHER IN CONTRACT OR IN TORT, EVEN IF STEALTH OR ITS AUTHORIZED REPRESENTATIVE HAS BEEN ADVISED OF THE POSSIBILITY OF SUCH DAMAGES, AND STEALTH SHALL NOT BE LIABLE FOR ANY EXPENSES, CLAIMS, OR SUITS ARISING OUT OF OR RELATING TO ANY OF THE FOREGOING.

How To Obtain Warranty Service

In the event of malfunction of your Stealth instrument, you should notify your nearest Authorized Stealth Dealer.

The Dealer or Owner must ship the instrument, freight and insurance pre-paid, to the nearest Authorized Stealth Service Center. If there is no Authorized Stealth Service Center near you, contact or have your dealer contact Stealth for information and authorization to return the instrument to Stealth. No instrument may be returned to Stealth without such prior Return Authorization. Only Authorized Stealth Service Centers may perform warranty service and any service performed by unauthorized persons will void this warranty. Stealth disclaims liability for defects or damage caused by services performed by unauthorized persons or non-warranty service not performed by Stealth or an Authorized Stealth Service Center.

When contacting Stealth, you must include a complete written description of the malfunction of the instrument. If non-warranty work is required or recommended by Stealth, a quotation will be issued and must be approved by you before any non-warranty work is commenced. You should consider quotations obtained for non-warranty work immediately and advise the Authorized Stealth Service Center or Stealth of your wishes. You are not required to purchase non-warranty work in order to obtain service on materials covered by this warranty. following its inspection of an instrument upon its arrival, Stealth or the Authorized Stealth Service Center will advise you or your dealer of the approximate date of completion. The repaired instrument or part will be returned to you or your dealer, freight collect insured.

No representative or other person is authorized to assume for Stealth any liability except as stated in this warranty.