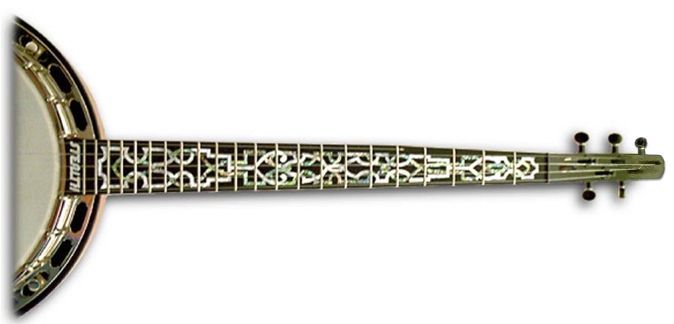 Specifications

Weight - 10 pounds
Scale Length - 25.5 inches
String Spacing - 2'' at the bridge
Case - Guardian 7 ply hardshell case
Wood Rim - 3 Ply Hard Rock Maple
Tone Ring - Robin Smith flathead
Fingerboard Radius - 10'' at the nut, 16'' at the 22nd fret
Neck/Resonator - Mahogany, Quilted Mahogany, Walnut, or Flame Maple
Fingerboard - blank ebony or rosewood, with side dots; Stealth logo in the 22nd fret space
Warranty - Limited 5 year warranty
If you have seen Scott perform recently, you will surely have noticed the striking profile of the neck on his banjo. The 5th string goes into the neck at the 5th fret, travels through the neck in a small tube and emerges at the headstock where it is attached to its tuner like the other four strings.
Another innovative design change is the shorter scale length (measured from the nut to the bridge). Scott has found that this scale - the same as is used on the guitar -both improves intonation and moves the bridge closer to the center of the head, resulting in enhanced lower frequency response. This shorter scale also makes those tough stretches a bit easier - especially if you have average to small size hands!

The compound fingerboard radius - also common in the guitar world - is yet another reason why the Stealth banjo feels so much better under your fingers.

Scott chose a radiused fingerboard for his banjo because it matches the natural curved shape of the fingers - making it faster and more comfortable for closed position fingerings. Using a compound radius allows you to have lower string action without buzzing and cleaner string bending up the neck. The overall design of the Stealth banjo - the neck position onto the pot, the neck angle, and the tall bridge - gives you the best of both worlds: low string action on the neck for ease of playing, and high action on the head for punch and volume.
Email us at: scott@scottvestal.com